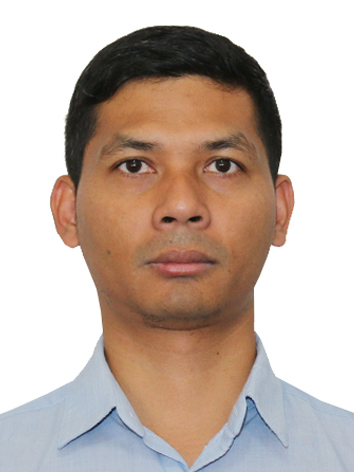 Utpal Handique

utpalhandique@outlook.com
教育经历 Education

博士 佛罗里达大学/美国 (University of Florida, Gainesville, FL), 2017
专业:园艺 (Major: Horticulture)
硕士 阿米提大学/印度 (M.Sc. AMITY University, NOIDA, India), 2009
专业:生物信息 (Major: Bioinformatics)
本科 迪布鲁格尔大学/印度 (B.Sc. Dibrugarh University, India), 2006
专业:动物学 (Major: Zoology)
工作经历 Professional Research Experience
讲师 (Lecture)内蒙古大学 (2019-至今)
博士后 (Post-doc. Researcher) University of Arizona(2017-2018)
科研领域 Research Area
作物病害病原鉴定(Crop disease diagnosis)、马铃薯与病原细菌互作机理 (Molecular Potato-pathogen interaction)、马铃薯细菌病害生物防控 (Potato bacterial disease bio-control)、马铃薯病原细菌群体进化特征 (Population structure of potato bacterial pathogens)、马铃薯细菌病害绿色综合防控 (Potato IPM)
科研项目 Projects
项目名称:基于卷积神经网络的马铃薯疮痂病识别方法 (2022.1-2024.12)2万
内蒙古自治区教育厅高等学校科学研究项目,编号NJZY22351 N,主持
项目名称:中国马铃薯黑胫病病原分离鉴定及群体多样性研究 (2020.1-2022.12)20万
内蒙古大学高层次人才启动项目,主持
期刊文章 Research Articles (*通讯作者corresponding author)
1. Handique, U., Cao, Y. N., Wang, D. Li, W., Sun, Q., Feng, Z., Zhang, R. and Wu, J.* 2022. First Report of Pectobacterium punjabense Causing Blackleg and Soft Rot on Potato in Hebei and Fujian Province, China. Plant Disease. doi: org/10.1094/PDIS-12-21-2731-PDN
2. Handique, U., Zhang, R.F., Zhang, Z.X., Feng, Z.W., Sun, Q.H. and Wu, J.* 2021. First Report of Streptomyces stelliscabiei Causing Potato Scab in Guizhou Province, China. Plant Disease. doi: 10.1094/PDIS-06-21-1242-PDN
3. Handique, U., Cao, Y. N., Feng, Z.W., Sun, Q.H., Zhang, R.F., and Wu, J.* 2021. First Report of Pectobacterium polaris Causing Blackleg on Potato in Inner Mongolia and Sichuan Province, China. Plant Disease. doi:10.1094/PDIS-08-21-1788-PDN
4. Cao, Y. N., Sun, Q. H., Feng, Z. W., Handique, U., Wu, J., Li, W. S. and Zhang, R. F.* 2021. First Report of Pectobacterium parmentieri Causing Blackleg on Potato in Inner Mongolia, China. Plant Disease. doi: 10.1094/PDIS-11-20-2502-PDN
5. Wu, J., Handique, U., Graham, J. and Johnson, E.G.* 2020. Phytophthora nicotianae infection of citrus leaves and host defense activation compared to root infection. Phytopathology, 110 (8): 1437-1448
6. Jiahuai H.*, Handique, U. and E R. N. First Report of Sclerotinia Boll Rot and Stem Blight of Cotton in Arizona. Plant disease. 2018., 102(8), 1663.
7. Nadia R. Handique, U.Yuanzeng Z. Megan D. Nian W. 2018. Characterization of antimicrobial-producing beneficial bacteria isolated from Huanglongbing escape citrus trees. Frontiers in Microbiology. 8, 2415
8. Handique, U., Nian W. Characterize the effect of HLB disease on the structure and function of the microbiome in the citrus rhizosphere. 2017. University of Florida. Dissertation.
9. Handique, U., Robert. C. Ebel and Kelly T. Morgan. 2012. Influence of Soil-Applied Fertilizer on Greening Development in New Growth Flushes of Sweet Orange. Proc. Fla. State Hort. Soc. 125: 36–39.
会议报告 (Conference attended)
美国植物病理协会年会 (2015)
(American Pathological Society Annual Conference, 2015. Pasadena, CA)
• 报告内容:柑橘土壤微生物群落结构及功能研究
(Poster presentation "Characterization of the structure and function of the microbiome in citrus rhizosphere")
美国园艺科学协会年会(第109届)
(109th American Society for Horticultural Science Annual Conference. 2012. Miami, FL)
• 报告内容: 土壤肥料对黄龙病侵染下的柑橘生长的促进作用
(Poster presentation "Influence of Soil-Applied Fertilizer on Greening Development in New Growth Flushes of Sweet Orange")
美国柑橘研究所年会 (2015/2016)
(Posters and Pastries Research Gallery Event, CREC 2015/2016. Lake Alfred, FL)
• 2015报告内容:柑橘土壤微生物群落结构与功能研究
(Poster presentation "Characterization of the structure and function of the microbiome in citrus rhizosphere")
• 2016报告内容:有益菌对黄龙病侵染下的柑橘黄龙病根系生长的影响
(Poster presentation "Characterization of the effect of beneficial microbes on the root health of citrus seedling infected with Candidatus Liberibacter asiaticus")
美国植物病理协会年会 (2017)
(American Pathological Society Annual Conference 2017, Tampa, FL)
• 报告内容: 生物肥料对黄龙病侵染下柑橘土壤微生物群落的影响
(Effect of biofertilizer applications on bacterial communities in the rhizosphere of citrus affected by huanglongbing. Phytopathology 106 (12), 25-25)
社会服务PROFESSIONAL SERVICES
• Journal Editorial Board Member
o American journal of plant biology
• Journal manuscript reviewer
o Plant Disease
o Plant science
o Scientia Horticultu